Source- THE WALL STREET JOURNAL India March 21, 2011, New Delhi
Url-http://on.wsj.com/hxNBMd
What if Japan Happened in India? March 21, 2011
Interview |
By Shefali Anand
Japan's recent earthquake and tsunami are reminders of the havoc that natural disasters can wreck on lives and property.

Do you have financial security to protect your property and valuables if something like this happened in India?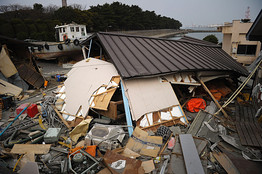 Getty Images A house that was washed away during the earthquake-tsunami that struck Japan. Picture taken in Kashima, Ibaraki, Japan, March 20, 2011.

If not, consider getting a home-insurance or householder policy. This insurance reimburses you in case of damage to property from both natural disasters like earthquakes and inundation by rains, as well as man-made perils like riots, theft, and the bursting of water tanks and pipes.

These policies are now available from all leading general insurance companies in India, both government-owned and private companies. Many of them sell this insurance online but those policies often contain loopholes which may leave you with far less reimbursement at the time of making a claim. If your property is highly valuable, consider going through an insurance broker or directly to a branch of the insurance company. Here's a list of insurance brokers in India.

Home insurance comes in two types - insurance for the home or apartment structure, and insurance for the contents of your home, such as furniture, electronic appliances and jewelry.

You can choose one or the other or both.

To get combined cover for a sum of 150,000 rupees ($3,330), you have to pay an annual premium of less than 5,000 rupees ($110). Premiums vary depending on the insurance company and the details of the coverage you take.

India's largest general insurer, government-owned New India Assurance Co., charges a premium of three rupees for every 1,000 rupees ($22) of sum assured, to cover everything from your building to your jewelry and electronics. That's a premium of 4,500 rupees ($100) for a sum assured of 150,000 rupees.